What is SEM (Search Engine Marketing)?
SEM (Search Engine Marketing) means to bring traffic to your website by paying Search Engine.
You have to bid on the keyword on which you have to rank your website. It ranks your website in the top position in the Instant search engine.
There are many different platforms to do SEM like Google, Bing, Yahoo, in which more and more Google Ads are popular.
Benefits of SEM
To increase your business awareness,
For email sign-ups,
To generate leads,
Used to convert visitors into customers.
Great for Local Marketing
It Generates Immediate Results
It's a Consistent Traffic Source
What Ad Does SEM Contain?
| | |
| --- | --- |
| PPC | Pay Per Click |
| CPC | Cost Per Click |
| PPC | Pay Per Call |
| CPM | Cost per thousand impressions |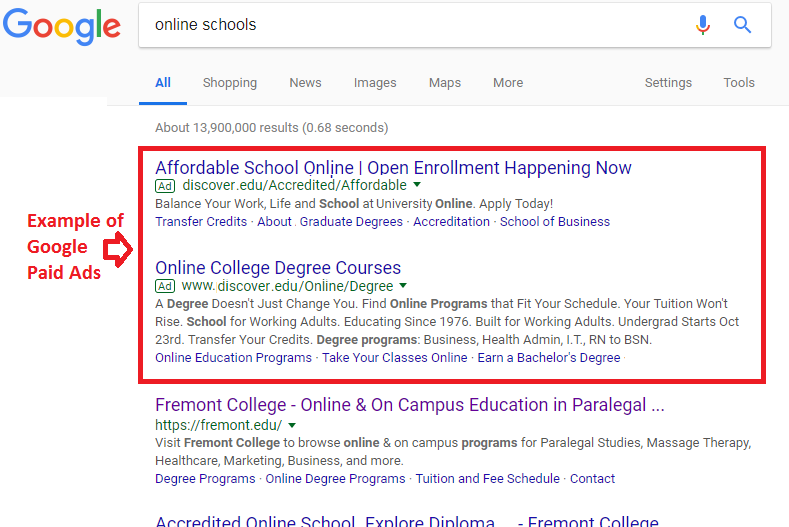 For example: As you can see in this image.
In this, the top 2 websites are ranking in the top position through SEM.
That's why AD is written in the URL of the website.
What is the difference between SEO and SEM?
SEO:  With this, you can increase traffic for your website for free. But it takes you a lot of time (6 to 12 months).
If your website is ranked on the top page, then it will rank for a long time.
SEM: With this, you can bring paid traffic to your website by giving money to Google (you will start getting traffic at the same time).
When you give money to Google, only then your website will rank on the top position.
For whom is SEM better?
The use of SEM is not for every man, because they are Paid, you can take traffic by paying money from it. If you have an online business and you want to promote it soon, then with the help of this you can promote it quickly. You must have seen in your Google Search Engine that while searching for something, there is a different type of Ad Show at the top, which is the top which neither Show nor click quickly in it.
Basic information about SEM
Currently, the most popular Paid Search Platform is Google Adword, which is a service of Google itself. Search Marketers use Adword only to show their Ads in Search Engines. Adword Ads not only appears in Google Search Engine but also in Search Engines like Bing and Yahoo. In this, you will also get the option of PPC Advertising, from which you can work Paid Traffic.
70% of Online Marketers use SEM to promote their business.
I hope you liked this information. If you do not understand anywhere, you can ask us in the comment. And if you liked this information then definitely share it.
Why Hire iTriangle Technolabs For SEM Services?
We believe in developing customized marketing services for our clients according to their specific needs. We co-operate with the clients to ensure that they gain maximized returns from our digital marketing solutions. We perform smart marketing operations that help you turn clicks into leads.
We value our clients and believe in providing them fair and expert strategic business practices.
We understand the competitors, resources, customers, and challenges of the client to construct campaigns that match their anticipations
We offer customized (SEM) Search Engine Marketing packages that are developed for various business requirements and budgets.
We have a highly qualified and experienced team of Search Engine Marketing experts.
We have an unrivaled reputation of having developed a number of successful SEM campaigns for happy clients across all over the world.