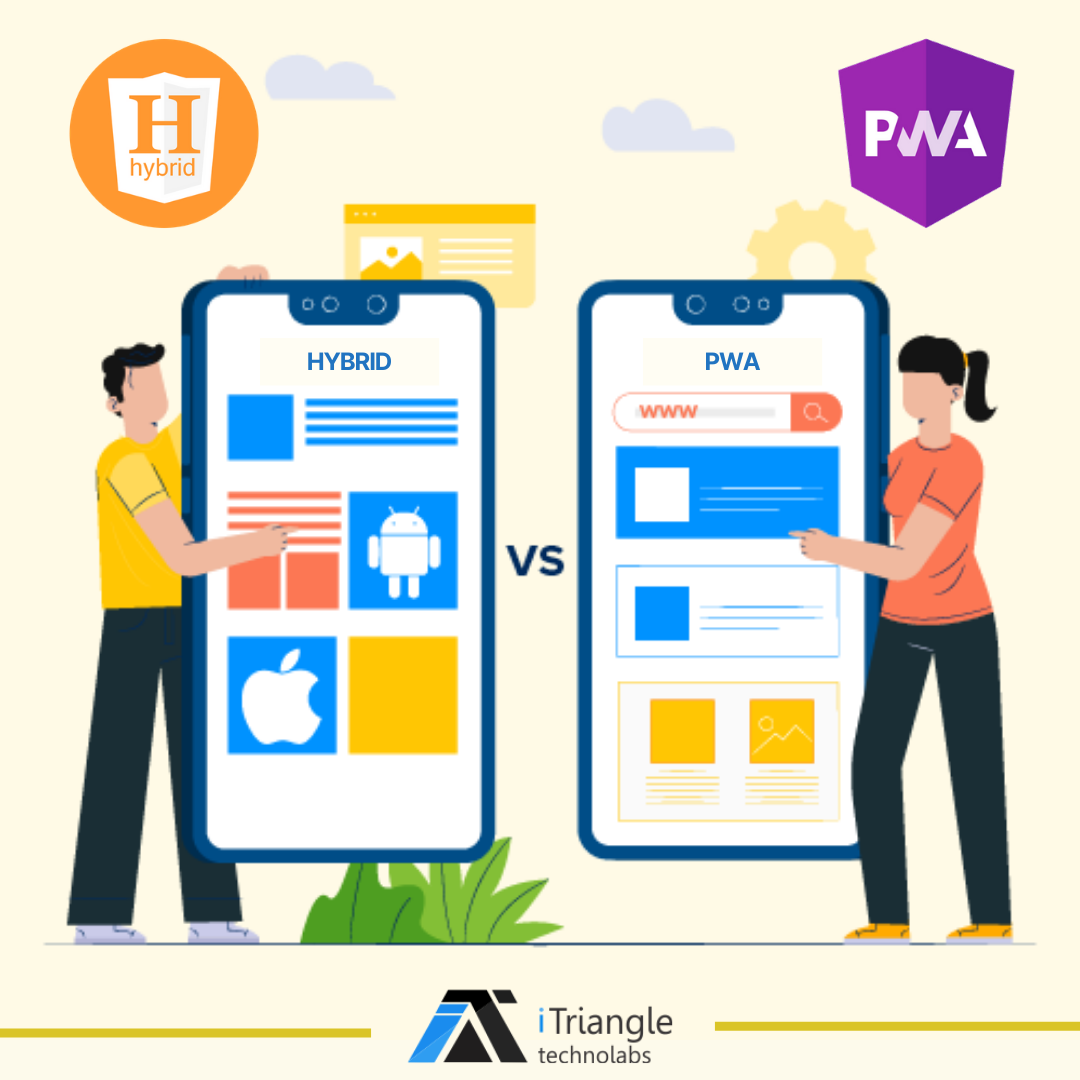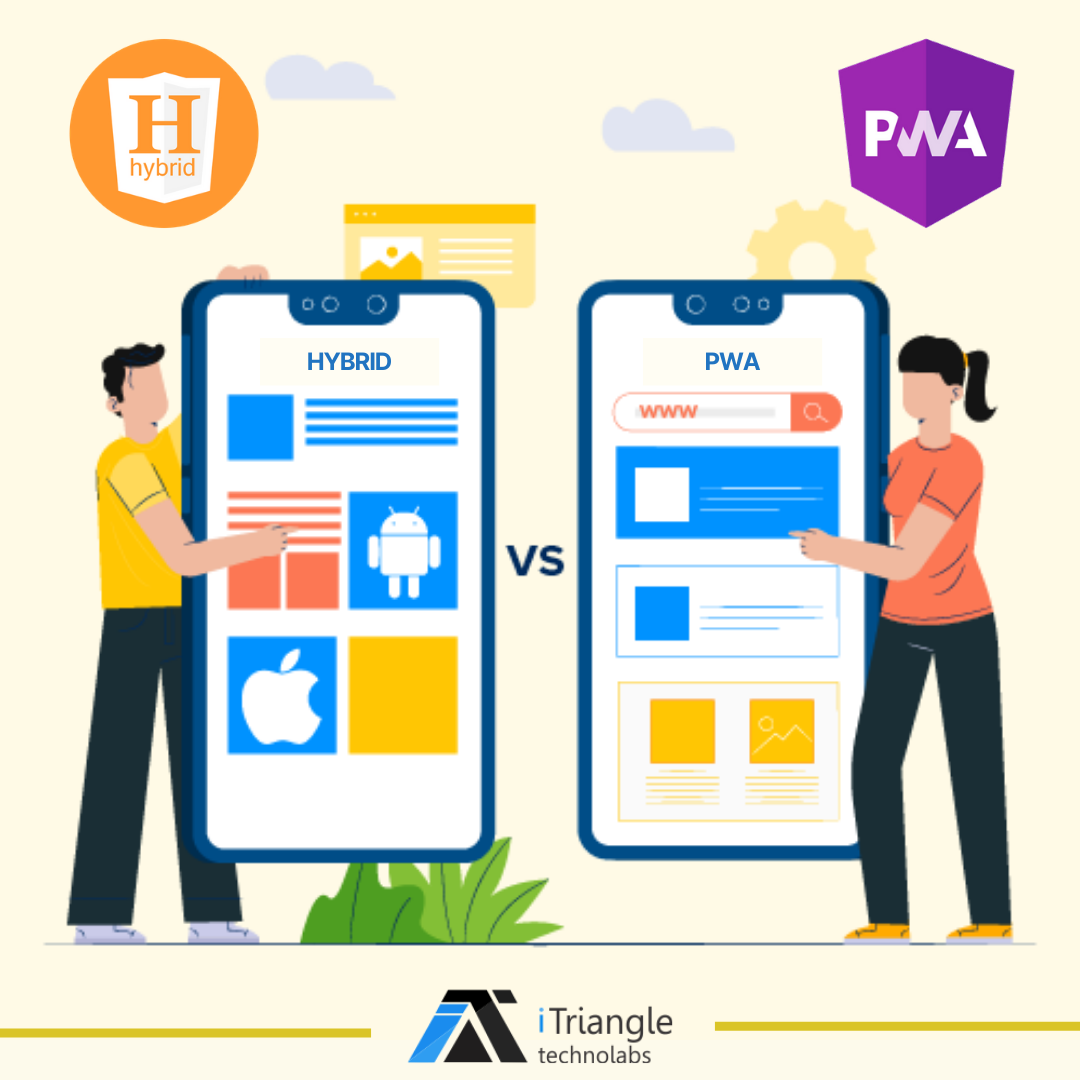 Hybrid Apps or Progressive Web Apps(PWA)? Hybrid App vs PWA – With the innovation in technology, the major point of conflict is the Hybrid App vs PWA. After the selection of the right platform, the application owner needs to know about the type of App. In today's advancing world both the technology prove to give the best outcome. Advantages and disadvantages listed below.
Hybrid Apps
Advantages of Hybrid Apps
The primary benefit of creating a hybrid app is the cost: you can develop what looks and feels like a native app, only at a fraction of the cost. This is because hybrid apps are web apps packaged in a native 'shell' – whilst a developer will need to 'wrap' the content in a native container, it will largely have the functionality and features of a web app.
Hybrid apps are also quicker to produce than native apps, making them a strong 'middle ground' for developers who don't need to provide custom features and who need to release their app on a tight deadline.
Hybrid apps can utilise features that typically only a native app would, such as your system resources. This might give them the power to use your camera, emojis or other desirable features of the handset. They're also built using one codebase (similar to web apps), allowing them to be quickly and easily ported to other operating systems.
If you already have a team of web developers, the learning curve is not too difficult to build hybrid apps.
Disadvantages Of Hybrid Apps
It's important to remember that hybrid apps are essentially repurposed web apps – this means that they do require an internet connection at all times to be functional. As they don't require a specific browser, however, they might not consume as much data as a full web app will!
Hybrid apps rely on plugins to make use of your device resources, unlike mobile apps which can obtain full access to your system – this means that whilst a hybrid app will be able to use certain device features, it might not have complete access to the system resources.
Similarly, developers may find that certain features of a hybrid app aren't supported on every operating system, which will lead to potentially costly modifications in order to ensure the app's functionality on every device.
Progressive Web App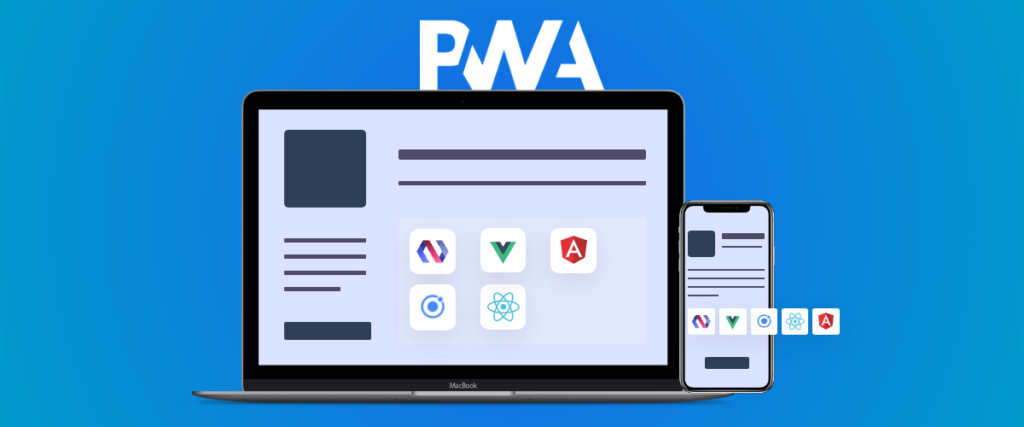 Advantages of PWA
One of the better functions of a PWA is that it works in any supported browser, whilst providing quality offline access. They also load much quicker than traditional web apps, making a visitor much more likely to stick around or respond to your CTAs.
PWAs are also quicker (and easier) to build than many native mobile apps, due to the fact that they are built on a standard codebase in order to be compatible with a web browser. This gives PWAs the added benefit of being cross-platform compatible; you won't need to redesign or recreate the app to ensure that it works just as well on an Android device as it does on an Apple counterpart.
PWAs also have access to features that a native web app would, which makes them incredibly accessible, fluid and easy to use.
Disadvantages Of PWA
A progressive web app might sound like a perfect solution: the benefits and perks of a native app, with the codebase and cost of a web app. There are a couple of things that you do need to be aware of though, especially if you're planning on creating a new app for your business.
The biggest downfall to PWA's is that they don't have access to all of your system resources, meaning that a native app may still be required. This is only something that you need to consider, though, if you actually need to make use of the native device features.
PWA's can also be a massive drain to a user's battery. They are much more demanding than both web apps and native apps, so users may not use the app for as long as they would use a mobile or web version.
They generally provide a less personal response to app users, as they can't access things such as your contacts, device Bluetooth, proximity sensors or wake lock.
Get Help from Specialist
Overall, we can see that there are both pros and cons perspectives to both hybrid apps and PWAs. Post that you need to find a solution expert who can guide you on the right development platform to deliver your application. For any questions in regards to building up the right app, either mobile, web or progressive web apps, you can connect with us at iTriangle Technolabs. iTriangle Technolabs has been working in the mobile apps development.